Skip to content
Alyve Medical Awarded Most Fundable Company Recognition by Pepperdine Graziadio Business School
Denver, CO – Alyve Medical, a global medical technology company and leader in data-driven joint kinematics tools and personalized neuromuscular electrical stimulation (NMES) technologies, is delighted to announce that it has achieved Silver recognition on the Pepperdine Graziadio Business School's sixth annual Most Fundable Companies® List. Alyve Medical competed against over 3,000 of early-stage US companies to be named one of 17 companies in total. The Most Fundable Companies initiative aims to educate founders on the investor diligence process and recognize exceptional entrepreneurs who are solving today's problems with inventive solutions and are also seeking investment capital to fuel their company's growth. Watch the event video.

Alyve Medical is a commercial stage medtech company focused on reimagining the management of musculoskeletal care. Alyve Medical has earned its reputation as a leader in the orthopedic and physical rehabilitation industries through the development of revolutionary non-invasive and wearable technologies engineered to drive improved outcomes and satisfaction for patients and healthcare professionals alike.
"Being acknowledged as a Most Fundable Company in 2023 represents a significant milestone for Alyve Medical, bolstering our prospects for our capital raise and propelling us closer to our goal of establishing market leadership," commented Yvonne Bokelman, Alyve Medical's CEO.   "The Most Fundable Companies diligence initiative was intensive, and demanded rigorous scrutiny, and we're elated to emerge as a leader in this data-driven evaluation. We sincerely appreciate the Pepperdine Graziadio Business School for providing entrepreneurs with a valuable platform to spotlight their businesses and forge essential connections with potential investors."
As a winner on the Most Fundable Companies List, Alyve Medical will be profiled on Entrepreneur.com and will be featured in the December print issue of Entrepreneur magazine. For a complete list of the winners, visit www.pepperdine.edu/mfc-list, where you can also vote for Alyve Medical through October 9th.
About Alyve Medical
Alyve Medical Inc. is a medical technology company focused on reimagining the management of musculoskeletal care. They have developed two FDA cleared innovative and novel platforms that aid clinicians in diagnosing, treating and preventing musculoskeletal injuries. These non-invasive technologies, deployed in physician offices and physical therapy clinics today are being used to observe normal and abnormal joint function in orthopedic treatments, physical therapy delivery, and athletic performance. For more information, please visit https://alyvemedical.com/.
 Contact:
Sean D. Murphy
smurphy@alyvemedical.com
+1 303-381-0375
About Pepperdine Most Fundable Companies
The Most Fundable Companies List is an annual program hosted by the Pepperdine Graziadio Business School aimed to promote startup business development by providing pathways for startup funding and inspiring entrepreneurial spirit across the nation. More than 3,000 companies across all 50 states applied for the 2023 program. The Pepperdine Graziadio Business School's Most Fundable Companies Showcase presented by the Singleton Foundation for Financial Literacy and Entrepreneurship took place on September 28, 2023 at Pepperdine University's Villa Graziadio Executive Center.
The Most Fundable Companies program was launched by the Pepperdine Graziadio Business School in 2018 as a free resource to help entrepreneurs assess their readiness for private investment. The initiative involves a multi-phase assessment that evaluates several company variables, including financial projections, market opportunity, intellectual property, and the strength of the management team, all of which are used to generate objective and customized feedback and scoring to improve readiness for funding.
Disclaimers: The Pepperdine Most Fundable Companies list does not represent an offer to sell securities. It does not constitute investment advice, nor is it an endorsement of any particular product or service. Pepperdine University is not a broker-dealer and does not perform services provided by a broker-dealer, including but not limited to any financial or investment advising.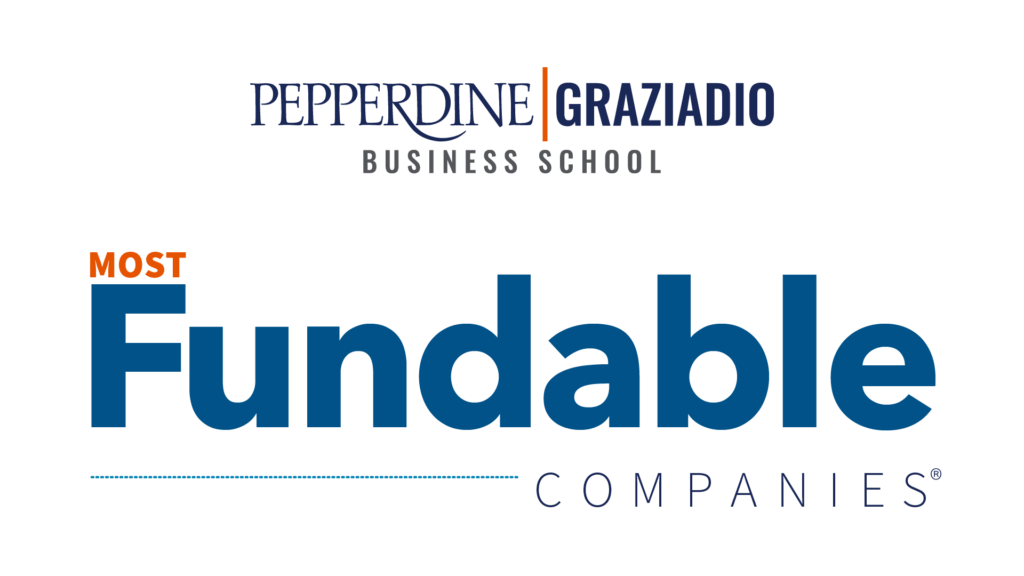 @2022 Alyve Medical | All Rights Reserved |
Privacy